PRECISION INTENSITY CONTROL FOR EFFECTIVE TRAINING
With our muscle oxygen monitor you can gather data to precisely control your training intensity.
Breakthrough Plateaus

Get Faster
Pursue Human Excellence
Are You
Struggling

With:
Identifying your limiters?
Understanding why you aren't going faster?
Lack of performance insight?
Fitting into one-size-fits-all training recommendations?
Start
Optimizing

Your Performance Through Precision Intensity Control
Identify Recovery Intensity
Moxy Monitor is the proven way to measure SmO2 in the muscle to eliminate blind training and optimize performance.
Perform Better
Get real time data from your muscles to make changes to your training strategy on the spot.
Achieve More
World champion athletes and coaches trust Moxy Monitor to optimize training and achieve precision intensity.
Here's Why
Champions

Use Moxy in Their Training…

Moxy Monitor is a mobile, non-invasive way to measure SmO2 and is used by Olympic and World Champions around the world to improve training.
"I use it for pacing. For my easy session, I can go down to like 30% and when I go below there, I tend to start ramping up my lactate production and I go above my LT1. If I can squeeze it down to 15% that's normally where my LT2 is."
– Kristian Blummenfelt, 2021 World Triathlon Champion, Olympic Triathlon Gold Medalist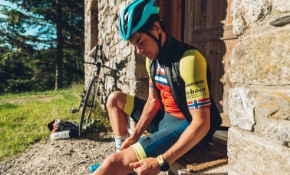 "I use Moxy to monitor my intensity. It's really simple. I just look at the percentage. I've been using it for so long now that I really have a good understanding of what the numbers mean to me."
– Gustav Iden 2022 Ironman World Champion, Olympic Triathlete
Moxy 1-Sensor Bundle
$879.00
Intended for athletes that are using Moxy as a daily training guide or for researchers that want to monitor a single site.
Moxy 3-Sensor Bundle
$2,637.00
Intended for training centers that are using Moxy for assessments and for researchers that want to monitor multiple sites.

Select Moxy Sensor Bundles
Purchase the sensor bundle that suits your application.
Choose Your Data Display
There are multiple options for live display of your Moxy data.

Decide How to Wear It
Select from Moxy shorts or bibs, stretchtape, Vetrap™, adhesives, and more.
We Get It

– You Don't Want to Waste Money on Another Gadget

At Moxy Monitor, we know that you want to pursue human excellence. In order to do that, you need to get faster. The problem is you are struggling to control your intensity which makes you feel defeated and stuck in your current training regimen. We believe in an honest way to improve your performance and understand that you expect the time and money you invest in a product to produce great results. World Champion athletes, Olympians, and trainers are using Moxy Monitor because they can't afford to waste time and effort in their training, and neither should you!
Download Our
FREE

Guide:
An Introduction to Muscle Oxygen Monitoring with Moxy Monitor